This week, the Savannah Police Department welcomed their first therapy dog.
Goose, a ten-week-old Labrador puppy, is the most recent addition to the SPD. This week she started her training program to become a therapy dog.
Chief Lenny Gunther stated that this feature will be of great benefit to department members and the local area. He continued, saying that Goose can provide comfort and support to an officer who is having a difficult time after a difficult situation, or to someone in the community who is going through a traumatic event.
Cpl. Julie Cavanaugh, who is part of the Behavioral Health Unit, has been given Goose to work with as one of her responsibilities.
A therapy dog is a canine that has received specialized instruction to offer solace and love to individuals apart from its owner.
Therapy dogs are frequently used in medical centers, educational institutions, elderly care homes, emergency areas, and any other place where people might be suffering.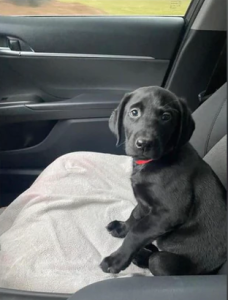 SPD indicated that Goose could be called in to help soothe any possible disturbances BHU might be dealing with.
Goose will be present in the department to provide comfort in any situation, whether it is for an officer or someone who experienced a traumatic event.
Assistant Chief Robert Gavin expressed his enthusiasm for the addition of Goose to the department, noting that this name was suggested due to its resemblance to Maverick's co-pilot in Top Gun. He remarked that it is a fitting title for what Goose will be doing at the department, serving as their "co-pilot" on a daily basis.
Source: WSB-TV Channel 2 – Atlanta