When dogs from the shelter have been adopted, it's an especially joyous occasion – and now the pup has finally found its own pack! It is especially thrilling when a dog that has been living in a shelter for an extended period of time is eventually adopted.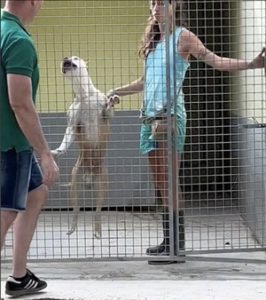 Paco is a fully-grown American Staffordshire Terrier who has been residing in the shelter for 270 days, but unfortunately nobody wanted to adopt him due to his age and Pitbull lineage.
Paco had longed for 270 days to find his forever family, and on that day, they finally came.
Paco was so thrilled that he was bouncing up and down with joy when his new father came to pick him up. At first, Paco was completely in the dark about what was going on. All he could see was that someone from the shelter and his potential new parent were heading towards where he was located.
He finally realized that he had found his forever home when his new father stretched out his arms towards him through the bars. Can you fault him for not being able to keep still? After all, he was finally getting the chance to live with his new family!
Many false beliefs and misinterpretations about the breed exist, making it tough for them to find a home. People with appreciation for Pitbulls seek out the breed and provide them with a loving, permanent home.
Paco's new life started when he was given a chance to start anew with his adoptive family. They have been nothing but loving and supportive of him, even during the difficult times.
Source: animalchannel.co