Eclipse, the Seattle canine renowned for her ability to ride a city bus unaccompanied, passed away on Friday. This news was made public through the Facebook account managed by her owner.
At 10 years old, she sadly passed away in her sleep as reported. It had been previously communicated that she was suffering from malignant tumors.
In 2015, Jeff Young and his dog Eclipse started to ride the bus together to go to Belltown Dog Park. This drew a lot of attention as it was uncommon for dogs alone to be taking the bus. He was still in the midst of his cigarette when the bus came, leaving her to board without him.
Within a few weeks, the black lab-bullmastiff mix had become an everyday commuter sporting her well-known red harness. In 2015, Seattle's KOMO News reported that bus drivers were familiar with her and she was able to recognize her stop simply by glancing out the window; the information came from her fellow travelers.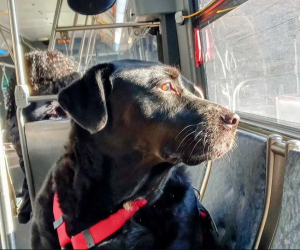 Fans were amazed by Eclipse's skill, and Young discussed her behavior in a way that might be seen as casualness or maybe assurance in his canine.
He informed KOMO News that they had to split up; she boarded the bus near her residence and he followed after, meeting her at the dog park a few stops later. It wasn't difficult for her to get on, he stated.
King County Metro took to Twitter to honor Eclipse, a beloved bus-riding dog and well-known Seattle symbol. They shared an image of her along with a message praising her for being "super sweet" and renowned around the world. She spread cheer and delight to everyone around you, demonstrating that well-behaved canines should be allowed on public transport.
Source: NPR